into the world of Bharata Natyam, the Indian classical temple dance in which 'Sadhana' plays an important role. On the following pages I will inform you about workshops, performances / presentations and dance classes:
Performances & presentations
Each dance performance contains a number of basic dance items and its own interpretation, including a narrative and interactive part for the audience. From a traditional India, in which the caste system played an important role, to today's modern India, with the immensely popular Bollywood. Sadhana narrates about this in her presentations; also about religion and spirituality: how old standards and values ​​remain intact in today's modern Indian society.
Workshop Indian Classical Temple dance
Introduction to Indian dance culture through ten lessons for those who want to explore. The highlights are: technical steps (adavus), hand gestures (mudras & hastas), eye / neck / and head movements, learning a Ganesha slokham (prayer).
Dance classes
For the true follower I design an individual teaching program that lays a solid foundation for hand gestures, footwork, dance patterns, rhythm, et cetera. After each block of four lessons, there is a sequel of advanced classes and mastering the temple dances. Do you feel inspired? Register now for a free trial lesson!
When the goddess Sarasvati fell in love with lord Brahma, transformation took place: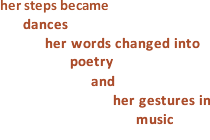 She is therefore called Sangeeta: unity of dance, music and poetry. Saraswati conceived 64 arts. The Indian classical dance (Bharata Natyam) is one of those.