Frozen movement flowing again
Our body collects memories, impressions and experiences. During our life it is inevitable that we run into disappointing and small or big traumas which is being reflected in our psychological and physical attitude. Dance therapy makes use of all these different events. The way back is treated in dance therapy: in this process clients re-focus themselves on their original longings. By dancing and moving they are able to recognize patterns, to make them explicit and ultimately transform themselves. Once something has been experienced and lived through in this way, it penetrates deep into our consciousness and then continues to work in daily life. As a result, frozen movements become more fluid and we start to feel better as a result.
Overcoming blockades
During her study of the Indian temple dance (Bharatanatyam) Sadhana Meijer-Gopalrai discovered how her own emotional blockades got in her way, complicating to move both body and mind in the required direction. It was a long way to overcome these. Her advanced studies, movement expression and dance therapy, helped her to overcome these blockades and become more freely in dance. In this way she was also able to help others. You can see her students / fellow dancers on the most recent films on the page 'Analysis of movement and dance'.
By refining her own movements, the result became visible over time, especially in the performance of the temple dance, but also in the transformations in her daily life that allowed the energy to flow fully again.
Following up on these studies and also as a further deepening, Sadhana is at the moment looking for new creations based on dance. That is why she now wants to introduce this form of an unique dance therapy, based on and derived from the principles of Indian temple dance, in the Netherlands.
Which parts of the brain are affected by dance?
The image below intuitively sketches how dance has worked through Sadhana's brain in the performance. She has also observed this effect among her own students.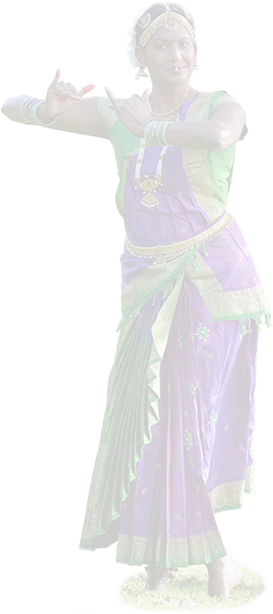 The motor cortex is an essential part of the brain that is stimulated by dance. This area is responsible for our learning ability and also for internalizing new movement patterns.
The function of the cerebellum is to facilitate coordination and refinement of the motor control. This stimulates the correct cooperation of the muscles responsible for stability and movement. The cerebellum is stimulated by complex and unique movements. For example, these are associated with dance, in this particular case Bharatanataym.
Dr. Reinhold Keuler notes that when the areas of the brain responsible for associative learning and imagination are stimulated, the dancer perceives a direct enhancement of the sensory awareness. In addition to these benefits, a dancer's 'spatial orientation and cognitive capacity' also increases as a result of the changes and developments in the brain.
The Indian dance institute Nrityaprerana has been working with the above insights since 1976 and has thus proven to be effective in the healing of various patients. A special dance therapy program has also been developed that specifically addresses the needs of these patients who are suffering from motor impairment in many ways. The program, SNT (Suchitra's Nritya Therapy), is certified by UNESCO.
How to use Bharatanatyam as a tool against rigidity?
Although the Indian temple dance in itself is a beautiful art in seeing it performed, in a simplified version it also has many advantages in the treatment of frozen movements. With relatively simple exercises, disciplined people can free themselves in their rigid motor skills caused by for instance mental blockades, but also by conditions such as Parkinson or arthritis. Bharatanatyam has simple hand gestures and foot movements in which all limbs are used systematically and symmetrically. The intensity of these exercises is highly dependent on the mind, flexibility of the body and the response of the muscles of each individual. The combined use of these three elements is an important difference compared to Western dance therapy because the effort of body and mind is used and applied in alternative ways.
An important aspect of this dance form is that the dancers use hand and eye movements to express different emotions, allowing them to express their own inner feelings. Expressions like these are beneficial for mental health because it calms the mind.
In the movie below an example of one aspect has been elaborated, namely 'frozen versus flowing eye movements'. The foundation is laid by focusing in a certain direction; the brain then controls this direction so that the eyes and muscles can perform the movements. Notice the differences between flowing and rigid or frozen motor skills. After the eyes, the facial expressions and fine motor skills of the hands are discussed.
For whom?
This module for dance and movement form can successfully be applied to many problem areas, such as:
People who suffer from various forms of rigidity (for example arthritis, Parkinson or other brain disorders).
Children who have an ADHD indication.
People who are stuck in patterns and therefore experience rigidity in themselves and in bonding with others.
Especially the therapists and counselors who work with this group of patients can turn to Sadhana for a targeted training module that is directly applicable to their work.
Applied methodology
A combination of the following methodologies and elements are used to recognize yourself, to rediscover, to heal yourself and above all to learn to reuse your motor skills more smoothly.
Hand gestures: mudras and hastas (from the Indian temple dance tradition)
Movement expression
Dance therapy
Vision for the future
In the near future, five modules will be created that will also cover the following components:
Facial expressions (especially among Parkinson's patients, the face freezes over time, causing them to become more and more socially isolated).
Hand gestures: the refinement of motor skills.
Combination of eye movements with hand gestures.
The first online modules are expected to be available in early 2021. The on-site sessions, both individually and in groups, are available now. Of course with due regard for the applicable corona measures.
Do you need more information?
Call me for an appointment without any obligation.
Telephone: +31 6 28249929
Why particularly Sadhana as a movement counsellor?
'Dance coaching with Sadhana penetrates your soul. She reflects in a clear and loving way what is going on in my (your) life at the moment. In her way of working she stands next to you, walks along a part of your life path and points out topics that you can work on. She has all kinds of coaching at her disposal. The use of movement through dance, for example, is important and special. I have experienced that movement is one of the many ways in which I get to know myself better. Sadhana provides all of this. I hope that many people may learn from her and enjoy her skills.'
(Lisalette Dijkers, Policy Advisor Work & Income)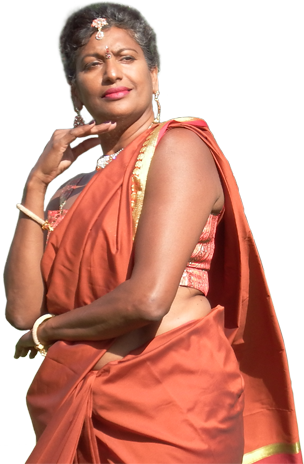 Sadhana Meijer-Gopalrai (1967): in addition to her current profession as a business counselor and cultural coach, she has also been an expert in classical Indian temple dance from a younger age. This dance form unites, like no other, the physical dynamics with fine motor skills together with the inspiration and beauty of the dance. Her own experiences in the process of mastering this dance and maintaining her skills are a continuous source of inspiration for inspiring workshops and dance classes.
Sadhana's personal synthesis of Indian background with collateral philosophy of life and Western dance trainings in combination with her professional experience makes her a unique and intuitive guru (teacher): she combines Bharata Natyam with in-depth knowledge about dance therapy and movement expression, so that her shisyas (students) receive personal attention.
Do you want to know more?
I would like to keep you informed through my newsletter. Register here!